Atlas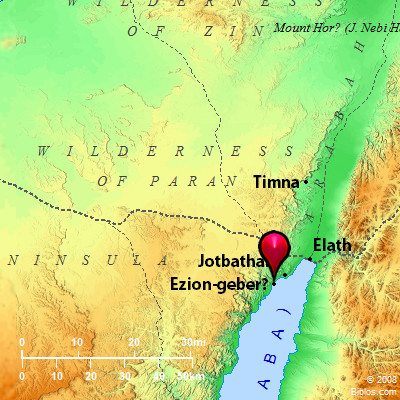 ---
Maps Created using Biblemapper 3.0
Additional data from OpenBible.info
---
You are free to use up to 50 Biblos coprighted maps (small or large) for your website or presentation. Please credit Biblos.com.
Occurrences
Numbers 33:34
They traveled from Jotbathah, and encamped in Abronah.
Numbers 33:35 They traveled from Abronah, and encamped in Ezion Geber.
Encyclopedia
ABRONAH
a-bro'-na, the King James Version Ebronah (`abhronah): One of the stations of Israel in the wilderness on the march from Sinai to Kadesh-the station next before that at Ezion-geber on the eastern arm of the Red Sea (Numbers 33:34, 35).
Strong's Hebrew
H5684: Abronah
a place in the desert