Atlas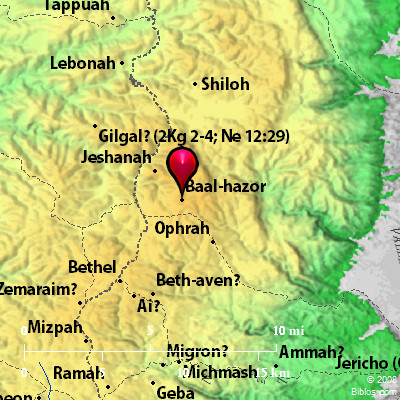 ---
Maps Created using Biblemapper 3.0
Additional data from OpenBible.info
---
You are free to use up to 50 Biblos coprighted maps (small or large) for your website or presentation. Please credit Biblos.com.
Occurrences
2 Samuel 13:23
It happened after two full years, that Absalom had sheepshearers in Baal Hazor, which is beside Ephraim: and Absalom invited all the king's sons.
Encyclopedia
BAAL-HAZOR
ba-al-ha'-zor ba`al chatsor; Bailasor, Bel-la-sor: A place on the property of Absalom where his sheep-shearers were gathered, beside Ephraim (2 Samuel 13:23). The sheep-shearing was evidently the occasion of a festival which was attended by Absalom's brethren. Here he compassed the death of Amnon in revenge for the outrage upon his sister. The place may be identified with Tell `Asur, a mountain which rises 3,318 ft. above the sea, 4 miles Northeast of Bethel. rine Kubbet el Baul may retain the old name.
Strong's Hebrew
H1178: Baal Chatsor
"possessor of a court," a city between Ephraim and Benjamin