Atlas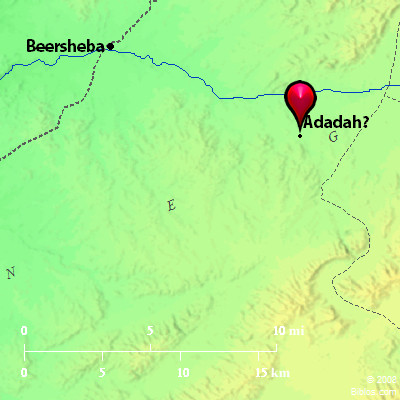 ---
Maps Created using Biblemapper 3.0
Additional data from OpenBible.info
---
You are free to use up to 50 Biblos coprighted maps (small or large) for your website or presentation. Please credit Biblos.com.
Occurrences
Joshua 15:21
The farthest cities of the tribe of the children of Judah toward the border of Edom in the South were Kabzeel, Eder, Jagur,
Encyclopedia
ADADAH
a-da'-da (`adh`adhah): A city in the southern part of Judah (Joshua 15:22). The older copies of the Greek text have Arouel, but that is not a sufficient reason for identifying the name with the Aroer of 1 Samuel 30:28. Some scholars adopt the change of text, and identify the site with Ararah, about seven miles Southeast of Beer-sheba. Others identify it with Adadah, eight or nine miles Southeast of Arad.