Atlas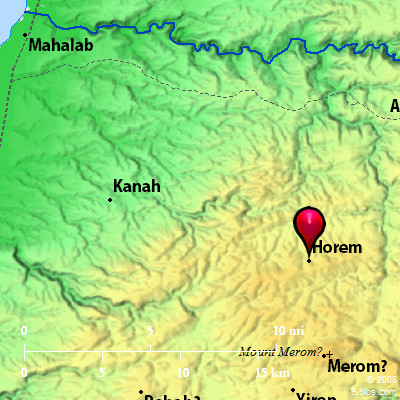 ---
Maps Created using Biblemapper 3.0
Additional data from OpenBible.info
---
You are free to use up to 50 Biblos coprighted maps (small or large) for your website or presentation. Please credit Biblos.com.
Occurrences
Joshua 19:38
Iron, Migdal El, Horem, Beth Anath, and Beth Shemesh; nineteen cities with their villages.
Encyclopedia
HOREM
ho'-rem (chorem, "consecrated"): One of the fenced cities in the territory of Naphtali (Joshua 19:38), named with Iron and Migdal-el. It may possibly be identified with the modern Hurah, which lies on a mound at the South end of Wady el-`Ain, to the West of Qedes.
Strong's Hebrew
H2765: Chorem
"sacred," a place in Naphtali