Atlas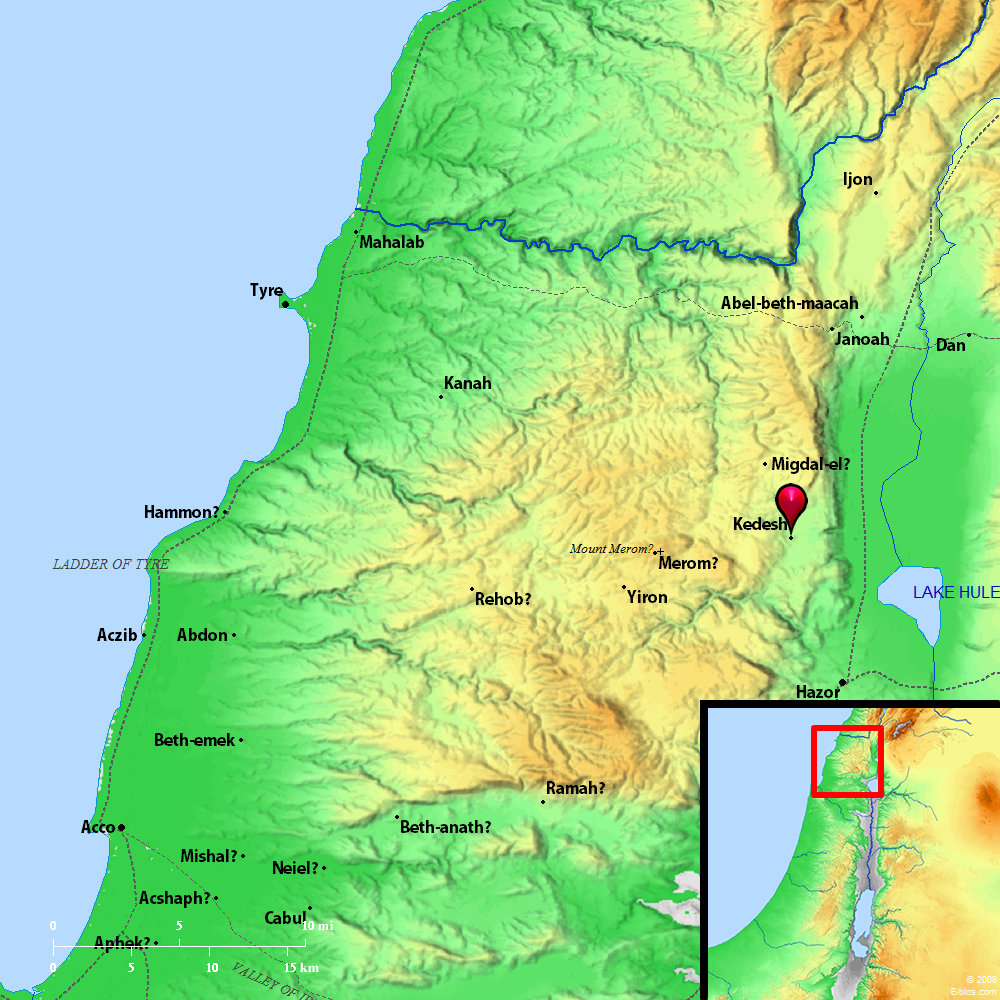 ---
Maps Created using Biblemapper 3.0
Additional data from OpenBible.info
---
You are free to use up to 50 Biblos coprighted maps (small or large) for your website or presentation. Please credit Biblos.com.
Occurrences
Joshua 12:22
the king of Kedesh, one; the king of Jokneam in Carmel, one;
Joshua 19:37 Kedesh, Edrei, En Hazor,
Joshua 20:7 They set apart Kedesh in Galilee in the hill country of Naphtali, Shechem in the hill country of Ephraim, and Kiriath Arba (the same is Hebron) in the hill country of Judah.
Joshua 21:32 Out of the tribe of Naphtali, Kedesh in Galilee with its suburbs, the city of refuge for the manslayer, Hammothdor with its suburbs, and Kartan with its suburbs; three cities.
Judges 4:9 She said, "I will surely go with you: nevertheless, the journey that you take shall not be for your honor; for Yahweh will sell Sisera into the hand of a woman." Deborah arose, and went with Barak to Kedesh.
Judges 4:10 Barak called Zebulun and Naphtali together to Kedesh; and there went up ten thousand men at his feet: and Deborah went up with him.
Judges 4:11 Now Heber the Kenite had separated himself from the Kenites, even from the children of Hobab the brother-in-law of Moses, and had pitched his tent as far as the oak in Zaanannim, which is by Kedesh.
2 Kings 15:29 In the days of Pekah king of Israel came Tiglath Pileser king of Assyria, and took Ijon, and Abel Beth Maacah, and Janoah, and Kedesh, and Hazor, and Gilead, and Galilee, all the land of Naphtali; and he carried them captive to Assyria.
1 Chronicles 6:76 and out of the tribe of Naphtali, Kedesh in Galilee with its suburbs, and Hammon with its suburbs, and Kiriathaim with its suburbs.
Encyclopedia
KEDESH (1)
ke'-desh (qedhesh; Kades):

(1) One of the "uttermost cities" of Judah "toward the border of Edom in the South" (Joshua 15:23). Possibly it is to be identified with KADESH-BARNEA (which see); otherwise it is strange that this latter should be omitted from the list. Dillmann would identify it with Kadus, to the South of Hebron, mentioned by Muqaddasi.

(2) A town in the territory of Issachar, given to the Gershonite Levites (1 Chronicles 6:72). In the list of Joshua (21:28) its place is taken by KISHION (which see). Conder suggests identification with Tell Abu Qades, near Megiddo.

(3) Kedesh-naphtali, the famous city of refuge in the uplands of Naphtali. It is called "Kedesh," simply, in Joshua 12:22, etc.; Kedesh-naphtali in Judges 4:6; Tobit 1:2; Kedesh in Galilee in Joshua 20:7, etc. It was assigned to the Gershonite Levites (1 Chronicles 6:76). From the name "holy," we gather that it was a sanctuary from old time. It was therefore a place of asylum, and only preserved its ancient character in this respect when chosen as one of the cities of refuge. It was the home of Barak, and here his host assembled. When the Assyrians invaded the land under Tiglath-pileser, it was among the first cities to be captured, and its inhabitants were deported (2 Kings 15:29). Near Kedesh was fought the great battle between Jonathan the Maccabee and Demetrius (1 Maccabees 11:63;). Josephus says that in his time it belonged to the Tyrians, lying between their land and that of Galilee (Ant., XIII, v, 6; B J, II, xviii, 1; IV, ii, 3, etc.). Eusebius, Onomasticon places it 20 miles from Tyre, near to Paneas. It is represented by the modern village of Kedes, which lies on the plateau to the West of el-Chuleh. It crowns a tell which runs out in a low ridge into the little plain to the West. Near the fountain, which rises under the ridge to the North, are the most interesting of the ancient remains. There are many fine sarcophagi, some of them being used as watering-troughs. From its lofty situation, Kedesh commanded a spacious view over a richly varied landscape, With smiling cornfields, and hills clothed with oak and terebinth.

W. Ewing
---
KE'DESH, now a small village, Kades, with many ruins, on a ridge 1587 ft, above the Mediterranean and 1580 ft. above the waters of Merom, from which it is distant 4 ms. n.w.
Strong's Hebrew
H6943: Qedesh
"sanctuary," the name of several places in Isr.