Atlas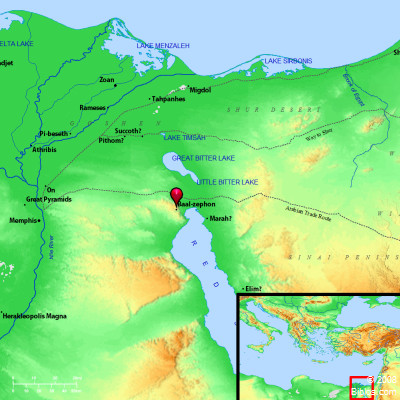 ---
Maps Created using Biblemapper 3.0
Additional data from OpenBible.info
---
You are free to use up to 50 Biblos coprighted maps (small or large) for your website or presentation. Please credit Biblos.com.
Occurrences
Exodus 14:2
"Speak to the children of Israel, that they turn back and encamp before Pihahiroth, between Migdol and the sea, before Baal Zephon. You shall encamp opposite it by the sea.
Exodus 14:9 The Egyptians pursued after them: all the horses and chariots of Pharaoh, his horsemen, and his army; and overtook them encamping by the sea, beside Pihahiroth, before Baal Zephon.
Exodus 14:11 They said to Moses, "Because there were no graves in Egypt, have you taken us away to die in the wilderness? Why have you treated us this way, to bring us forth out of Egypt?
Exodus 14:12 Isn't this the word that we spoke to you in Egypt, saying,'Leave us alone, that we may serve the Egyptians?' For it were better for us to serve the Egyptians, than that we should die in the wilderness."
Numbers 33:7 They traveled from Etham, and turned back to Pihahiroth, which is before Baal Zephon: and they encamped before Migdol.
Encyclopedia
BAAL-ZEPHON
ba-al-ze'-fon ba`al tsephon; Beelsepphon; (Exodus 14:2, 9 Numbers 33:7): The name means "Lord of the North," and the place was opposite the Hebrew camp, which was between Migdol and the sea. It may have been the shrine of a Semitic deity, but the position is unknown (see EXODUS). Goodwin (see Brugsch, Hist. Egt., II, 363) found the name Baali-Zapuna as that of a god mentioned in an Egyptian papyrus in the British Museum.
Strong's Hebrew
H1189: Baal Tsephon
"Baal of winter," a place in Egypt