Atlas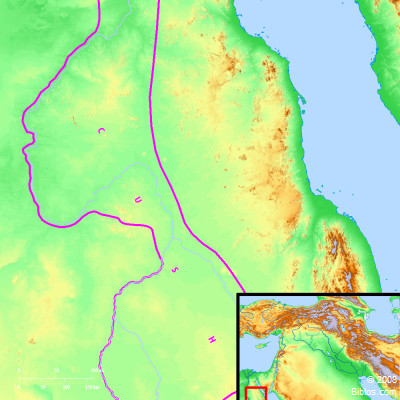 ---
Maps Created using Biblemapper 3.0
Additional data from OpenBible.info
---
You are free to use up to 50 Biblos coprighted maps (small or large) for your website or presentation. Please credit Biblos.com.
Occurrences
Esther 1:1
Now it happened in the days of Ahasuerus (this is Ahasuerus who reigned from India even to Ethiopia, over one hundred twenty-seven provinces),
Esther 8:9 Then the king's scribes were called at that time, in the third month Sivan, on the twenty-third day of the month; and it was written according to all that Mordecai commanded to the Jews, and to the satraps, and the governors and princes of the provinces which are from India to Ethiopia, one hundred twenty-seven provinces, to every province according to its writing, and to every people in their language, and to the Jews in their writing, and in their language.
Job 28:19 The topaz of Ethiopia shall not equal it, Neither shall it be valued with pure gold.
Encyclopedia
ETHIOPIA
e-thi-o'-pi-a (kush; Aithiopia):

1. Location, Extent and Population:

Critically speaking Ethiopia may refer only to the Nile valley above the First Cataract, but in ancient as in modern times the term was often used not only to include what is now known as Nubia and the Sudan (Soudan), but all the unknown country farther West and South, and also at times Northern, if not Southern, Abyssinia. While Ethiopia was so indefinitely large, yet the narrow river valley, which from the First to the Fifth Cataract represented the main agricultural resources of the country, was actually a territory smaller than Egypt and, excluding deserts, smaller than Belgium (W. Max Muller). The settled population was also small, since in ancient as in modern times Egypt naturally drew away most of the able-bodied and energetic youth as servants, police and soldiers.