Atlas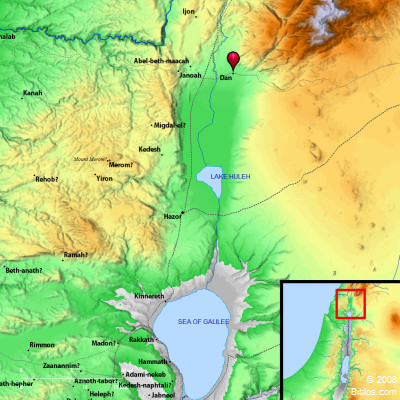 ---
Maps Created using Biblemapper 3.0
Additional data from OpenBible.info
---
You are free to use up to 50 Biblos coprighted maps (small or large) for your website or presentation. Please credit Biblos.com.
Occurrences
Joshua 19:47
The border of the children of Dan went out beyond them; for the children of Dan went up and fought against Leshem, and took it, and struck it with the edge of the sword, and possessed it, and lived therein, and called Leshem, Dan, after the name of Dan their father.
Encyclopedia
LESHEM
le'-shem.

See LAISH.
LAISH
la'-ish (layish):

(1) A city in the upper Jordan valley, apparently colonized by the Sidonians, which was captured by the Danites and called DAN (which see) (Judges 18:7, etc.; Isaiah 10:30 the King James Version). In Joshua 19:47 the name appears as "Leshem."

(2) A Benjamite, father of Palti or Paltiel, to whom Michal, David's wife, was given by Saul (1 Samuel 25:44 2 Samuel 3:15).
---
LE'SHEM, the most ancient name of Dan, same as Laish, see Josh. 19:47 and Judg. 18:29.
Strong's Hebrew
H3959: Leshem
a place in Northern Palestine