Atlas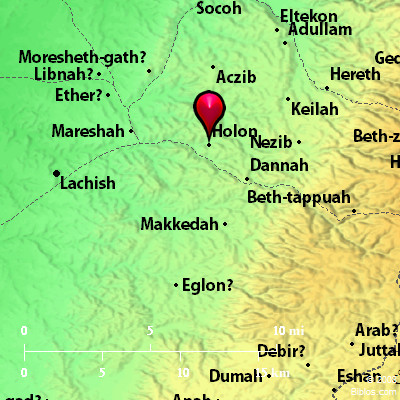 ---
Maps Created using Biblemapper 3.0
Additional data from OpenBible.info
---
You are free to use up to 50 Biblos coprighted maps (small or large) for your website or presentation. Please credit Biblos.com.
Occurrences
Joshua 15:51
Goshen, Holon, and Giloh; eleven cities with their villages.
Joshua 21:15 Holon with its suburbs, Debir with its suburbs,
Encyclopedia
HOLON
ho'-lon (cholon or chowlon):

(1) One of the towns in the hill country of Judah (Joshua 15:51) assigned to the Levites 21:15). In 1 Chronicles 6:58 (Hebrew 43), it is HILEN (which see). The site may be the important ruins of Beit`Alam (see PEF, III, 313, 321, Sh XXI).

(2) Probably once an important town in the "plain," i.e. plateau, of Moab (Jeremiah 48:21); the site is unknown.
Strong's Hebrew
H2473: Cholon
a place in Moab, also a city in Judah