Atlas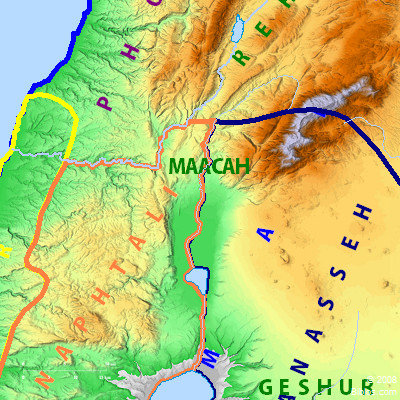 ---
Maps Created using Biblemapper 3.0
Additional data from OpenBible.info
---
You are free to use up to 50 Biblos coprighted maps (small or large) for your website or presentation. Please credit Biblos.com.
Occurrences
2 Samuel 10:6
When the children of Ammon saw that they were become odious to David, the children of Ammon sent and hired the Syrians of Beth Rehob, and the Syrians of Zobah, twenty thousand footmen, and the king of Maacah with one thousand men, and the men of Tob twelve thousand men.
2 Samuel 10:8 The children of Ammon came out, and put the battle in array at the entrance of the gate: and the Syrians of Zobah and of Rehob, and the men of Tob and Maacah, were by themselves in the field.
2 Samuel 23:34 Eliphelet the son of Ahasbai, the son of the Maacathite, Eliam the son of Ahithophel the Gilonite,
1 Chronicles 19:7 So they hired for themselves thirty-two thousand chariots, and the king of Maacah and his people, who came and encamped before Medeba. The children of Ammon gathered themselves together from their cities, and came to battle.
Encyclopedia
MAACAH
ma'-a-ka (ma`akhah; Septuagint: Codex Vaticanus Mocha; Codex Alexandrinus Maacha): A small Syrian kingdom adjoining that of Geshur on the western border of Bashan, the inhabitants of which are called Maachathites (the Revised Version (British and American) "Maacathites"), whose territory was taken by Jair (Deuteronomy 3:14 Joshua 12:5). The border of the Geshurites and the Maacathites and all Mt. Hermon were given to the half-tribe of Manasseh (Joshua 13:11). The inhabitants of these kingdoms, however, were not driven out by Israel (Joshua 13:13), and at a later day the children of Ammon hired mercenaries from Maacah for their encounter with David. The armies met near Medeba when the "Syrians" from Maacah found themselves opposed to Joab. That famous captain completely routed them (2 Samuel 10:6; the Septuagint has "Amalek"). In 1 Chronicles 19:6 it is called Aram-maacah, Syria-maachah (the King James Version); and in 1 Chronicles 2:23 "Aram" appears instead of "Maacah."

It evidently lay between Geshur on the South and Hermon on the North, being probably bounded by Jordan on the West, although no certain indication of boundaries is now possible. They would thus be hemmed in by Israel, which accounts for `Geshur and Maacath dwell in the midst of Israel" (Joshua 13:13).It is possible that Abel-beth-maacah may have been a colony founded by men from Maacah.

W. Ewing