Atlas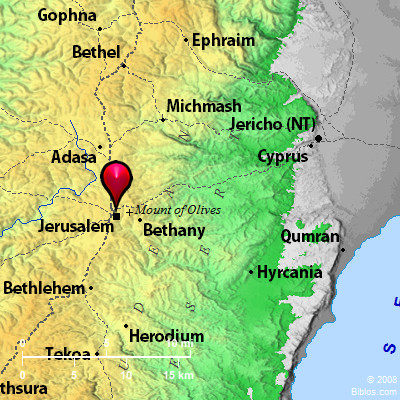 ---
Maps Created using Biblemapper 3.0
Additional data from OpenBible.info
---
You are free to use up to 50 Biblos coprighted maps (small or large) for your website or presentation. Please credit Biblos.com.
Occurrences
2 Kings 11:6
A third part shall be at the gate Sur; and a third part at the gate behind the guard. So you shall keep the watch of the house, and be a barrier.
Encyclopedia
SUR
sur (Codex Vaticanus Assour, Codex Alexandrinus Sour): Those that dwelt in Sur are mentioned along with the inhabitants of Sidon, Tyre, Ocina, etc., as dreading the approach of Holofernes and the Assyrian any (Judith 2:28). The names run from North to South, and Sur immediately follows Tyre (modern Sur), with which, therefore, it can hardly be identified. No probable identification has been suggested.

See also JERUSALEM.
Strong's Hebrew
H5495: Sur
"a turning aside," a gate of the temple