Atlas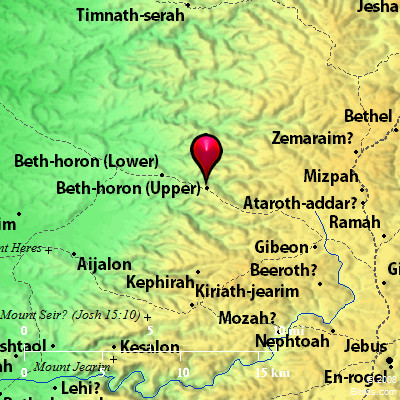 ---
Maps Created using Biblemapper 3.0
Additional data from OpenBible.info
---
You are free to use up to 50 Biblos coprighted maps (small or large) for your website or presentation. Please credit Biblos.com.
Occurrences
Joshua 16:5
This was the border of the children of Ephraim according to their families. The border of their inheritance eastward was Ataroth Addar, to Beth Horon the upper.
1 Chronicles 7:24 His daughter was Sheerah, who built Beth Horon the lower and the upper, and Uzzen Sheerah.
2 Chronicles 8:5 Also he built Beth Horon the upper, and Beth Horon the lower, fortified cities, with walls, gates, and bars;
Encyclopedia
BETH-HORON
beth-ho'-ron (beth-choron (other Hebrew forms occur); Bethoron, probably the "place of the hollow"; compare Hauran, "the hollow"):

1. The Ancient Towns:

The name of two towns, Beth-horon the Upper (Joshua 16:5) and Beth-horon the Lower (Joshua 16:3), said to have been built (1 Chronicles 7:24) by Sheerah, the daughter of Beriah. The border line between Benjamin and Ephraim passed by the Beth-horons (Joshua 16:5; Joshua 21:22), the cities belonging to the latter tribe and therefore, later on, to the Northern Kingdom. Solomon "built Beth-horon the upper, and Beth-horon the nether, fortified cities, with walls, gates, and bars" (2 Chronicles 8:5 1 Kings 9:17).

From Egyptian sources (Muller, As. und Europa, etc.) it appears that Beth-horon was one of the places conquered by Shishak of Egypt from Rehoboam. Again, many centuries later, Bacchides repaired Beth-horon, "with high walls, with gates and with bars and in them he set a garrison, that they might work malice upon ("vex") Israel" (1 Maccabees 9:50, 51), and at another time the Jews fortified it against Holofernes (Judith 4:4, 5).

2. The Modern Beit Ur el foqa and el tachta:

These two towns are now known as Beit Ur el foqa (i.e. "the upper") and Beit Ur el tachta (i.e. "the lower"), two villages crowning hill tops, less than 2 miles apart; the former is some 800 ft. higher than the latter. Today these villages are sunk into insignificance and are off any important lines of communication, but for many centuries the towns occupying their sites dominated one of the most historic roads in history.

3. The Pass of the Beth-horons:

When (Joshua 10:10) Joshua discomfited the kings of the Amorites "he slew them with a great slaughter at Gibeon, and chased them by the way of the `Ascent of Beth-horon.' " When the Philistines were opposing King Saul at Michmash they sent a company of their men to hold "the way of Beth-horon."

This pass ascends from the plain of Ajalon (now Yalo) and climbs in about 3/4 hr. to Beit Ur el tachta (1,210 ft.); it then ascends along the ridge, with valleys lying to north and south, and reaches Beit Ur el foqa (2,022 ft.), and pursuing the same ridge arrives in another 4 1/2 miles at the plateau to the North of el Jib (Gibeon). At intervals along this historic route traces of the ancient Roman paving are visible. It was the great highroad into the heart of the land from the earliest times until about three or four centuries ago. Along this route came Canaanites, Israelites, Philistines, Egyptians, Syrians, Romans, Saracens and Crusaders. Since the days of Joshua (Joshua 10:10) it has frequently been the scene of a rout. Here the Syrian general Seron was defeated by Judas Maccabeus (1 Maccabees 3:13-24), and six years later Nicanor, retreating from Jerusalem, was here defeated and slain (1 Maccabees 7:39; Josephus, Ant, XII, x, 5). Along this pass in 66 A.D. the Roman general Cestius Gallus was driven in headlong flight before the Jews.

Now the changed direction of the highroad to Jerusalem has left the route forsaken and almost forgotten. See PEF, III, 86, Sh XVII.

E. W. G. Masterman