Atlas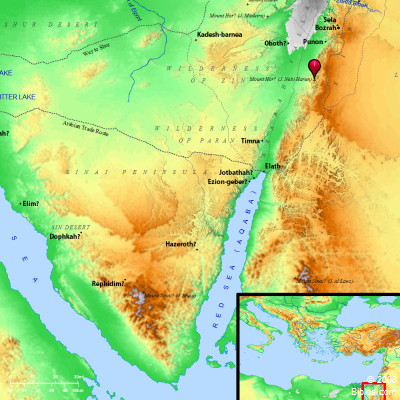 ---
Maps Created using Biblemapper 3.0
Additional data from OpenBible.info
---
You are free to use up to 50 Biblos coprighted maps (small or large) for your website or presentation. Please credit Biblos.com.
Occurrences
Deuteronomy 10:6
(The children of Israel traveled from Beeroth Bene Jaakan to Moserah. There Aaron died, and there he was buried; and Eleazar his son ministered in the priest's office in his place.
Encyclopedia
BEEROTH BENE-JAAKAN
ben'-e-ja'-a-kan (be'eroth bene ya`aqan; the Revised Version, margin "the wells of the children of Jaakan"): A desert camp of the Israelites mentioned before Moserah (Deuteronomy 10:6). In Numbers 33:31, 32 the name is given simply "Bene-jaakan," and the situation after Moseroth.

See WANDERINGS OF ISRAEL.