Atlas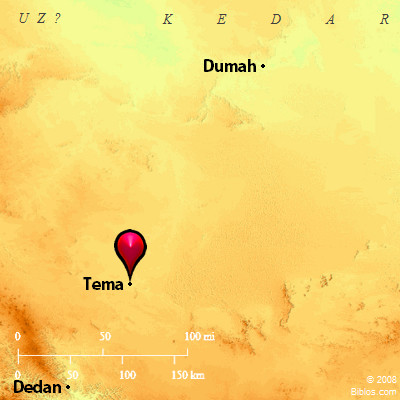 ---
Maps Created using Biblemapper 3.0
Additional data from OpenBible.info
---
You are free to use up to 50 Biblos coprighted maps (small or large) for your website or presentation. Please credit Biblos.com.
Occurrences
Job 6:19
The caravans of Tema looked. The companies of Sheba waited for them.
Isaiah 21:14 They brought water to him who was thirsty. The inhabitants of the land of Tema met the fugitives with their bread.
Jeremiah 25:23 Dedan, and Tema, and Buz, and all who have the corners of their hair cut off;
Encyclopedia
TEMA
te'-ma (tema', "south country"; Thaiman): The name of a son of Ishmael (Genesis 25:15 1 Chronicles 1:30), of the tribe descended from him (Jeremiah 25:23), and of the place where they dwelt (Job 6:19 Isaiah 21:14). This last was a locality in Arabia which probably corresponds to the modern Teima' (or Tayma' (see Doughty, Arabia Deserta, I, 285)), an oasis which lies about 200 miles North of el-Medina, and some 40 miles South of Dumat el-Jandal (Dumah), now known as el-Jauf. It is on the ancient caravan road connecting the Persian Gulf with the Gulf of Aqaba; and doubtless the people took a share in the carrying trade (Job 6:19). The wells of the oasis still attract the wanderers from the parched wastes (Isaiah 21:14). Doughty (loc. cit.) describes the ruins of the old city wall, some 3 miles in circuit. An Aramaic stele recently discovered, belonging to the 6th century B.C., shows the influence of Assyrian article The place is mentioned in the cuneiform inscriptions (Schrader, KAT2, 149).

W. Ewing