Atlas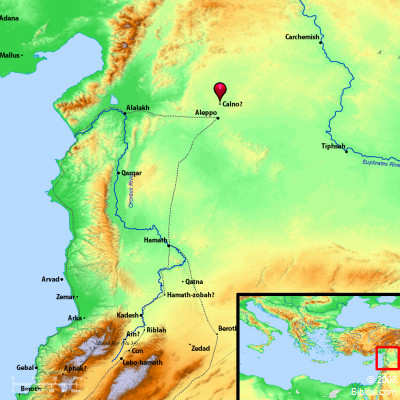 ---
Maps Created using Biblemapper 3.0
Additional data from OpenBible.info
---
You are free to use up to 50 Biblos coprighted maps (small or large) for your website or presentation. Please credit Biblos.com.
Occurrences
Isaiah 10:9
Isn't Calno like Carchemish? Isn't Hamath like Arpad? Isn't Samaria like Damascus?"
Encyclopedia
CALNEH; CALNO
kal'-ne, kal'-no (kalneh (Amos 6:2), kalno (Isaiah 10:9)): "Probably the Kulnia (Kullani) associated with Arpad and Hadrach, Syrian cities, in the Assyrian `tribute' list (Western Asiatic Inscriptions, II, 53, number 3); Kullanhu about six miles from Arpad" (HDB, I, 344, and 1-vol HDB, 109).